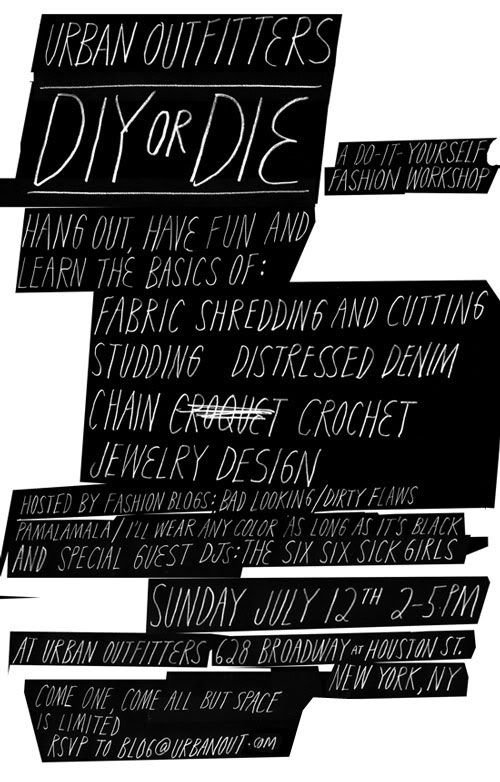 As the flier says, on July 12th I will be joined by the lovely, talented, and endlessly creative minds and bodies of Nikki from
Dirty Flaws
, Jeralyn of
Ill Wear Any Color As Long As Its Black
, Pam from
Langoliers
and
Pamalamala
, as well as Tiffany and Christina, the
Six Six Sick Girls
(who will also be DJing), at the Broadway and Houston Urban Outfitters in NYC to conduct six unique DIY Tutorials. The event will begin at 2pm and end at 5pm but there will be refreshments and socializing both before and after where attendants will have the option to ask questions and see demonstrations up close, as well as meet and mingle with one another and bloggers, alike.
There will be 60 RSVP spots available, which secures those on the list a seat at one of the limited table spots as well as a Gift Bag that will have DIY materials as well as magazines and the How To Handbook that Urban has created specifically out of our written tutorials. Because these spots are so limited, each of us involved is going to be holding a contest on our own personal blogs. This is what it entails:
SEND ME A PHOTO OF YOUR MOST SUCCESSFUL OR FAVORITE OR EVEN YOUR MOST INTERESTING DO-IT-YOURSELF EXPERIMENT/OUTCOME ALONG WITH A SENTENCE OR TWO ABOUT WHAT DIY MEANS TO YOU, HOW YOU INCORPORATE IT INTO YOUR LIFE, OR EVEN JUST WHAT YOUD LIKE TO LEARN ABOUT FASHION DIY-ING. IF YOU HAVE A BLOG, LINK ME!

By July 5th, we will have our winners picked - the lucky ten, two from each blog, that will have secure front row seats to the NYC DIY Event of the Summer! Leave your entry as a comment, here, on this post, and be sure to tell your friends about it! All five of our blogs will be hosting this contest and we cannot wait to see who gets to join us on July 12th!