As you may have noticed,
a contest was held
for two spots on the RSVP list for
DIY or Die
and now that
the event is only days away, the winners must be announced! So, Ladies and Gentlemen, here they are:
No. 1

- Nadia at We Were Damsels
First of all, she seems like a sweetheart and Im a sucker for her enthusiasm. But beyond that, she DIYed a really awesome pair of jeans and apparently theyre her only DIY! Such good work for a first timer. I love the way shes wearing the jeans in both pictures, exactly the way to wear DIY - confident and natural. I know I lacked both traits when I first started DIYing. Id walk out of the house wearing something that I loved having made and somehow, several blocks later, Id feel a bit self-conscious. Though it probably had something to do with how miserable by first DIYs were, I love how well shes pulling off her bleached denim. Congrats, Nadia!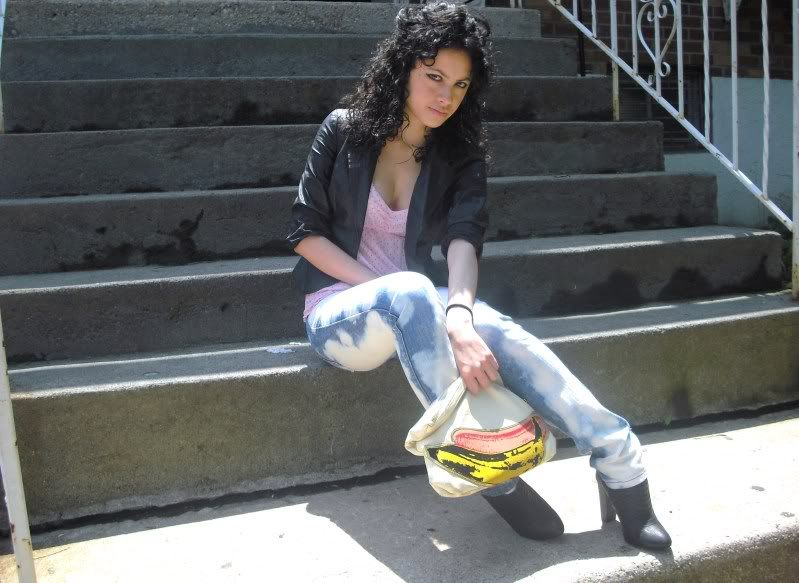 No. 2
-
Shiela
's
DIY Sock Monkeys
My high school years were spent doing frequent volunteer work so, its safe to say, this DIY really made me proud. Not only are the Sock Monkeys adorable, but they "are sold to benefit artists with special needs around the city," Shiela explained. Though she didnt I don't have any pictures of specific monkeys that only she had made "because they have already been sold," the picture shows a basket of monkeys made by both artists and volunteers. I love not only the mission itself, but the project. I, for one, dont exclude general arts and crafts from the genre of DIY. Id love to have Shiela has an attendant of DIY or Die, that way she can learn to use her vast and apparent skills in crafting and sewing to create within her wardrobe, for herself, as well! Congrats, Shiela!