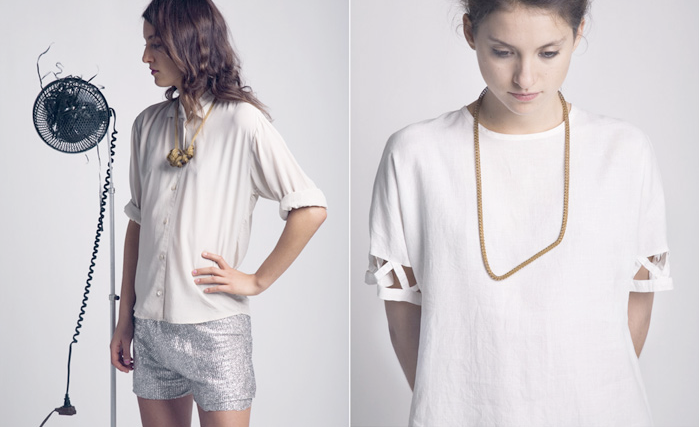 This started as a post about a variety of pieces and different jewelers that have inspired pre-Fall lust for 2009, but I kept coming back to Samma, Hanna Sandin's line, because I favored several of her pieces over a mix of any others. Shes been written up everywhere, lately, in anticipation of her pop up work for
Urban Outfitters
Space 15 Twenty
. Of Samma, 15 Twenty Blog wrote:
"Hanna Sandin of Samma is another favorite. Hanna is a fine arts artist, most of the work I have seen are of her sculpture and they are exquisite. It's so exciting to experience the different areas of one's fine arts and design talent and have them both equally impressive and unique. Hanna's artistic background is prevalent in her jewelry. You can really experience the tactile nature of her work, not only graphically in a two-dimensional surface pattern standpoint of her woven wire collar necklaces but also from a 3-D standpoint. This is especially clear in the little and big loop necklaces with her knotted braided brass cording. She also makes her own beads out of leather by rolling stripes of leather. She pairs down materials in the most sophisticated way. Samma is about minimalism and repetition."
Sometimes the best press for a designer is simply just wearing it out. That's how we stumbled upon New York artist Hanna Sandin's new line of sometimes sculptural, sometimes soft jewelry that goes by the Swedish name for "same," Samma. On this particular evening Sandin had layered three of her Leather Wrap necklaces in gold, black and silver—an enticing display that prompted enthusiastic compliments and a bar napkin information exchange. Lo and behold, another night on the town, another spotting. This time, it was designer Mary Ping sporting a brass wire Samma creation, Big Loop, that sources say is often Ping's centerpiece. A few days later a quick drop-in at Sandin's Wall Street studio led to the revelation (and increasing admiration) that despite her emphasis on simple patterns and repetition, no two pieces she creates ever come out looking exactly, well, the samma.
The serendipitous start of the jewelry line SAMMA is as unusual and memorable as the line itself—it began with a robbery. When artist Hanna Sandin's apartment was burgled and all her valuables and jewelry were stolen, she began stringing materials from her studio around her neck as a method of temporary adornment. The casual operation underwent an alchemical shift of Rumpelstiltskin straw-into-gold proportions, and her makeshift necklaces became beautiful jewelry that is both elegant and slightly offbeat.

Ms. Sandin, whose collection is available at Mc & Co in Williamsburg, has the mesmerizing ability to take the most banal object and give it a sense of worth by allowing its inherent beauty to shine through. An elegant woman of Swedish decent—and a familiar face among art and fashion circles—the six-foot-tall designer is rarely seen without one of her creations around her neck. Moreover, the collection of ropes and triangles, chains and knots seem a natural, wearable extension of the mobiles and sculptures she creates: a harmonious sing-song of complementary fragments.
Im just absolutely crazy about these pieces - they are beautiful statements without being overtly trendy or over-the-top with color or size. My favorite is that triangle bead piece because Im obsessed with all things three sized lately, but I just think its incredibly innovative without compromising timelessness. Id love to make it mine but unfortunately it seems that this particular piece is nowhere to be found! Im going to have to stop by the LES' Zadeh Boutique, the one place I can identify that recently took up Samma. Any of these pieces would be fine with me, honestly. Cant wait to see where Hanna Sandin goes with her beautiful line!