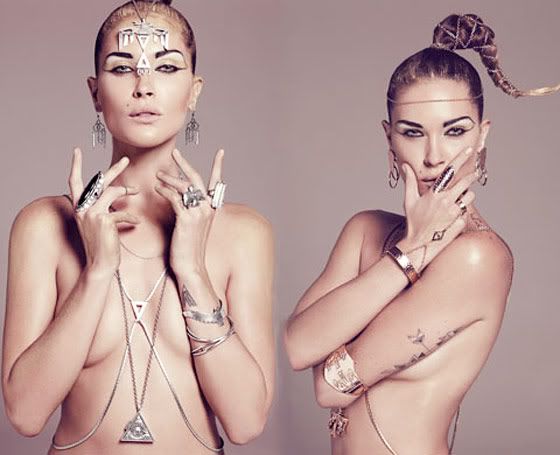 Though I stand by my
skepticism
for all things Erin Wasson I do have a soft spot for her soft spot for pitbulls and I am not going to argue her LowLuv collection. Its very reminiscent of Pamela Love's work in the imagery that it draws from but a. its priced excruciatingly reasonably (only excruciating because it means I could, maybe, purchase a lot of it) and b. well, they both bother me in the same way as fashion figures, so mostly just a. The collection is trendy but not obnoxious and its cultural references are simplified rather than glaring and obnoxious as a white girl paying homage to a lot of Native American and other worldly symbols could easily have been. I give her a lot of credit for staying within some very important boundaries that already exist somewhat outside the box.
Not everyone shares these sentiments, however, notes
My Fashion Life
:

Fans of Erin Wasson and her Low Luv jewellery line will be pleased – she's just shot a new campaign, starring herself, naturally, wearing the latest Low Luv pieces which can only mean a new collection is about to drop. Shot by Paola Kudacki – who says "the clothes were not necessary" – the SS11 lookbook shows a naked warrior-like Wasson (inspired by her role in Lagerfeld's Pirelli calendar, perhaps?) clad in her label's jewellery designs. An interesting concept, maybe, but one that doesn't seem to be going down too well with the public so far. Comments left on the Cut include, "I wish I could un-see that" and similar stick-to-modelling sentiments. Well, we for one have long been fans of Low Luv's easy cool pieces and, cleopatra campaign aside, can't wait for the new collection to bow – that gold bangle chained to a ring is top of our lust-list.
Regardless, I have some of the simpler, silver pieces bookmarked for future wanting. Well see if they ever get added to my collection because I may or may not cave into the evil eye and triangle pieces, but theres certainly a chance for Wasson in my wardrobe.